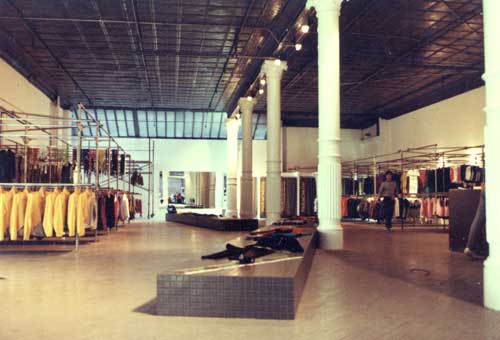 Every major high-fashion specialty and department store in the U.S. has carried PARACHUTE designs. Saks Fifth Avenue has devoted all of its Fifth Avenue windows to PARACHUTE. Bergdorf Goodman launched its own PARACHUTE shop and saw the PARACHUTE page in its catalog break all sales records.
Macy's New York and San Francisco used PARACHUTE clothing and accessories to anchor new promotions of advanced fashion.
PARACHUTE's own twenty-four flagship stores in major U.S. cities were magnets for the design-conscious leaders in the arts and served as stages for seasonal fashion shows and Julliard music performances. Mick Jagger turned cartwheels near the dressing rooms to test his performance outfits and Andy Warhol scouted new talent sitting in the Soho store's vast bleachers.