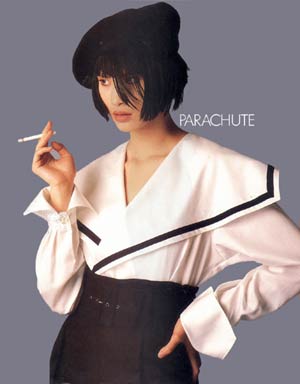 Invitations are being extended to manufacturers and purveyors in fifty different categories of goods and services that meet the lifestyle profile and priority of the PARACHUTE customer.
The PARACHUTE customer is extraordinarily proud of his or her acquisition of PARACHUTE-branded goods and services, and continues to acknowledge and value the design credibility of the PARACHUTE name.
If you manufacture products or offer services that can meet the stringent criteria of the PARACHUTE brand, and would like to collaborate with our design team to offer these under license, we would like to hear from you. Certain categories are already licensed or under reserve.
These designs, produced in over a dozen countries, have been carried throughout the United States, by over 200 of the most prestigious stores in Europe, as well as by the leading retailers in Japan, Singapore, Hong Kong and Australia.
In a Vogue magazine interview, Madonna named PARACHUTE as one of her three favorite fashion sources. PARACHUTE was the outfitter of choice for Madonna and her group, and over a quarter of all the performers, in the Live-Aid concerts telecast around the world.
The major music performers over the past twenty-five years have all bought PARACHUTE, including Mick Jagger, Peter Gabriel, Madonna, Michael Jackson, Prince, Stevie Wonder, George Michael, Cher, Duran Duran, Lionel Ritchie, New Kids on the Block, Blondie and David Bowie. PARACHUTE has outfitted the world tours for many of these groups, and their accompanying photos and posters have graced many young adults' bedrooms. It was not unusual for half of the top-twenty music artists in any week to dress in PARACHUTE for their videos.
In film and TV, PARACHUTE was chosen by Miami Vice as their principal wardrobe supplier. Milena Canonero, the Academy Award winning costumer, selected PARACHUTE styles of unconstructed jackets, t-shirts under suits, asymmetrical dresses and everything in black for the show and they became icons for a generation to copy. Woody Allen, with Mia Farrow and Diane Keaton, chose PARACHUTE designs and store interiors for several of his films to represent a New York and L.A. style leadership attitude.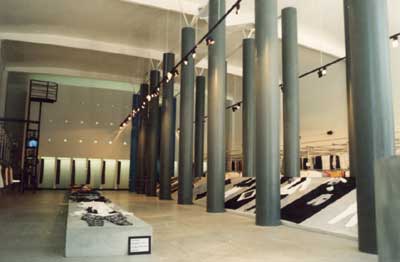 PARACHUTE became the badge of honor for actors, architects, designers, and sports figures who regularly visited the PARACHUTE stores. The company made many of the designs available in less-costly fabrics and larger production runs in subsequent seasons to serve the department store markets around the world.
Just about every major fashion designer in the world has shown up in a PARACHUTE store to check out the goods, try on something to buy personally, or strike up a friendship with the designers.
PARACHUTE store concepts and architecture have been editorially featured in the main international architecture and design magazines from the US, Great Britain, Japan, Korea, Italy, Canada, Finland, Australia and Singapore. Books on store planning and environmental design have also published PARACHUTE stores as examples of ground-breaking new design.
Editorial articles around the world confirm that the fashion, architecture and related products of PARACHUTE have firmly established the brand internationally to signify design leadership worldwide. In addition, the team has been rigorous in visiting and inspecting all of its overseas manufacturing sources to assure compliance with its high standards of employment conditions and labor practices.