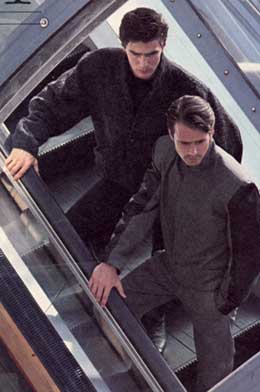 PARACHUTE had in-stores or dedicated retail space in twenty-five major department stores throughout Japan, in addition to its flagship store in Tokyo's prestigious New Otani Hotel Shopping Arcade. Over 20,000 PARACHUTE Japanese logo T-shirts were sold in the first three weeks after the opening.
Japan Airlines ran a series of television ads filmed in the Soho store suggesting clients fly JAL to New York to shop at style-setter PARACHUTE. Japanese music groups dressed for their videos and performances in PARACHUTE. PARACHUTE designs had extensive multi-page editorial presentations in the major fashion magazines in the country. The prestige of PARACHUTE was used extensively by Japanese producers of linens, dinnerware and other high-end products who incorporated PARACHUTE fashions in their advertising campaigns.
Major Japanese textile and trading firms such as Kanebo, C. Itoh and Toyobo associated themselves with the avant-garde designs of PARACHUTE to introduce and test-market new fabrics such as "microfibers" in the worldwide marketplace. PARACHUTE was the only American or European design firm invited to participate.
Kashiyama of Japan highlighted PARACHUTE fashions as one of the few resources chosen for its flagship Paris store to represent the best in advanced design.
In Australia PARACHUTE was carried in all of the Myers Department Store units, as well as by the most important independent fashion-forward retailers in the country. Vogue Australia gave continuous extensive editorial coverage to PARACHUTE designs.
Hong Kong and Singapore boutiques carried PARACHUTE and the designs received strong and continuous editorial support from all the local fashion magazines.